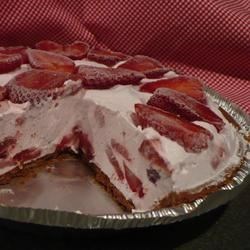 So basically, you just take 2 containers of strawberry yogurt, 1 container of cool whip, and some strawberries. Then you mix 'em up, dump them into 1 graham cracker crust, and chill.
And then you feel supremely satisfied at your genius use of relatively low-calorie ingredients.
And then you enjoy a slice of your pie.
That's the most crucial step, after all.
Happy Monday!
[photo from
allrecipes.com
]